In memoriam
since 10 March 2019 :
View(s): 206 (7 ULiège)
Download(s): 0 (0 ULiège)

Éric
Thys
, Bernard
Pochet
& Jan
Bogaert
In memoriam

Prof. Dr Guy Mergeai (15.10.1959 - 04.05.2021)
Editorial

---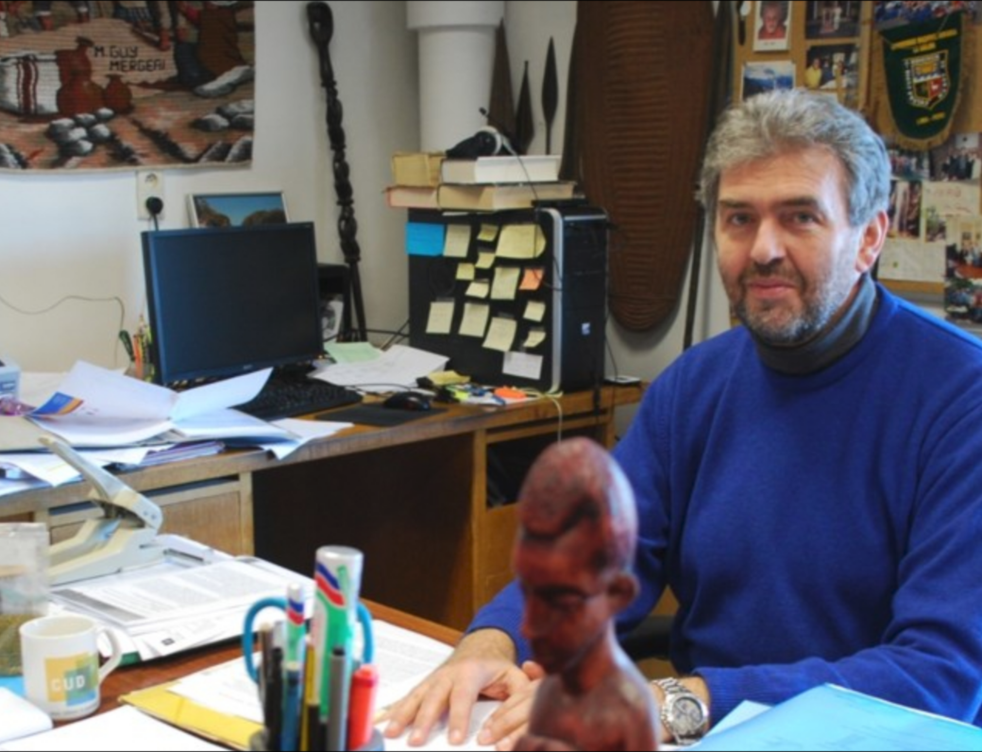 1Né à Kabinda dans le Kasaï Oriental en République démocratique du Congo le 15 octobre 1959, Guy MERGEAI est décédé le 4 mai 2021 à Fosse-la-Ville en Belgique.
2Ingénieur agronome de formation, Guy était Professeur à Gembloux Agro Bio-Tech ULiège où il dirigeait depuis 2014, le laboratoire d'Agro-écologie tropicale.
3Après une mission de 24 mois au Togo de 1984 à 1986 comme expert en charge d'un projet FAO-IBPGR (International Board for Plant Genetic Resources), Il débuta sa carrière à la Faculté de Gembloux en 1986 en tant qu'assistant dans le domaine de la phytotechnie tropicale. Pendant un an, il fut chef d'un projet de recherche de Gembloux à Gandajika en République démocratique du Congo proche de son lieu de naissance et ensuite il gravit les échelons de la carrière académique pour devenir professeur.
4Il séjourna également en mission pour de plus courtes périodes au Burundi, en Colombie, au Kenya, en Ouganda, au Pérou et au Sénégal lui permettant d'établir de nombreuses collaborations avec l'Afrique et l'Amérique du Sud.
5Guy était assurément un homme de terrain.
6En 1986, il a été l'un des membres fondateurs de l'ONG ADG, appelée à l'époque « Communauté Agronomique Gembloutoise au Service du Tiers Monde » puis, 7 ans plus tard, « Aide au Développement Gembloux ». Il deviendra président en 2000, poste dont il démissionnera le 22 décembre 2011 pour devenir vice-président. Il fera partie du Conseil d'Administration jusqu'à maintenant. En 2018, Il participera aussi à la création de l'ONG Eclosio, le résultat d'une fusion entre deux ONG de l'ULiège : ADG et UniverSud.
7Il effectuera de nombreuses missions sur le terrain. Ses contacts avec ses étudiants et confrères étaient cordiaux et ouverts. Lorsqu'ils apprenaient qu'il était né au Congo, les ressortissants des pays des grands lacs (République démocratique du Congo, Rwanda et Burundi) voyaient en lui un véritable africain. Un « Ndugu », comme on dit en Swahili, avec qui ils se sentaient parfaitement à l'aise pour communiquer librement. Pour eux, Guy avait compris l'esprit participatif des paysans. C'était quelqu'un qui respectait les suggestions de ses interlocuteurs et intégrait la réalité socioculturelle.
8Aux dires de ses étudiants, il restait humble et discret et ne cherchait pas les honneurs. Malgré une liste impressionnante de contributions scientifiques, il a toujours mis l'accent sur le développement durable au service des populations.
9C'est cet esprit qui l'amènera à devenir membre du conseil d'administration de l'asbl gérant la revue Tropicultura qui met également l'accent sur le développement rural au sens large et qui a pour objectif de donner des opportunités et d'accompagner des jeunes scientifiques du Sud lors de leurs premiers pas vers une publication scientifique. D'abord adjoint pendant un an au Professeur HARDOUIN, titulaire de la fonction, il deviendra administrateur-délégué et rédacteur en chef en 1997 pour le rester jusqu'en octobre 2017. Au cours de ces 20 années, il a été un acteur majeur de Tropicultura, ne comptant pas ses heures pour assister les auteurs en difficultés. En 2017, la maladie le rattrape et il doit se faire remplacer dans ces deux fonctions. La maladie ne l'empêchera néanmoins pas de venir encore participer aux réunions quand il le pouvait.
10Il a lutté.
11Son rire éclatant ne résonnera plus dans les couloirs, mais il restera toujours dans l'esprit de ceux qui l'ont connu.
12Born in Kabinda in East Kasai in the Democratic Republic of the Congo on October 15, 1959, Guy MERGEAI passed away on May 4, 2021 in Fosse-la-Ville, Belgium.
13Agronomic engineer by training, Guy was a professor at Gembloux Agro Bio-Tech ULiège, where he has been the head of the tropical agro-ecology laboratory since 2014.
14After a 24-month mission to Togo from 1984 to 1986 as an expert in charge of an FAO-IBPGR (International Board for Plant Genetic Resources) project, he began his career at the Faculty of Gembloux in 1986 as an assistant in the field of tropical phytotechnics. For one year, he was the head of a Gembloux research project in Gandajika, in the Democratic Republic of the Congo, close to his birthplace, and then grew through the academic career ladder to become a professor.
15He also spent shorter periods in Burundi, Colombia, Kenya, Uganda, Peru and Senegal, allowing him to establish numerous collaborations with Africa and South America.
16Guy was definitely a man from the field.
17In 1986, he was one of the founding members of ADG NGO, first called "Communauté Agronomique Gembloutoise au Service du Tiers Monde" and then, 7 years later, "Aide au Développement Gembloux". He became chairman in 2000, a position he resigned on December 22th, 2011 to become vice-chair. He was on the Board of Directors until now. In 2018, he also participated in the creation of the umbrella NGO of ULiège, Eclosio, born out of the fusion between ADG and UniverSud.
18He carried out many field missions. His contacts with his students and colleagues were cordial and open. When they learned that he was born in Congo, the nationals of the countries of the Great Lakes (Democratic Republic of the Congo, Rwanda and Burundi) saw him as a true African. A "Ndugu" as they say in Swahili with whom they felt communicating in a perfect free and comfortable way. For them, Guy was a man who understood the participatory spirit of the peasants. He was someone who respected the suggestions of his interlocutors and integrated the socio-cultural reality.
19According to his students, he remained humble and discrete and did not seek honors. Despite an impressive list of scientific contributions, he always focused on sustainable development at the service of the populations.
20It is this spirit that led him to become a member of the board of administrators of the association managing the journal Tropicultura, which also focuses on rural development in the broadest sense and which aims to coach young scientists with their first publication. Initially deputy for one year of Professor HARDOUIN holder of the office, he became managing administrator and editor-in-chief in 1997 and remained so until October 2017. During these 20 years, he was a major player in Tropicultura, not counting his hours to assist writers in difficulty. In 2017 the disease caught up with him and he had to be replaced in both positions. But the illness did not prevent him from participating to the meetings when he could.
21He fought.
22His bursting laughter will no longer resonate in the corridors, but he will always remain in the mind of those who had known him.
23Guy MERGEAI nació en Kabinda, Kasai Oriental, República Democrática del Congo, el 15 de octubre de 1959. Falleció el 4 de mayo de 2021 en Fosse-la-Ville, Bélgica.
24Ingeniero agrónomo de formación, Guy fue profesor en Gembloux Agro Bio-Tech ULiège donde dirigió desde 2014, el laboratorio de Agroecología tropical.
25Después de una misión de 24 meses a Togo de 1984 a 1986 como experto a cargo de un proyecto FAO-IBPGR (International Board for Plant Genetic Resources), comenzó su carrera en la Facultad de Gembloux en 1986 como asistente en el campo de la fitotecnia tropical. Durante un año, fue jefe de un proyecto de investigación de Gembloux en Gandajika, República Democrática del Congo, cerca de su lugar de nacimiento, y luego pasó las diferentes etapas de su carrera académica hasta convertirse en profesor.
26También realizó misiones de corta duración en Burundi, Colombia, Kenia, Perú, Senegal y Uganda, lo que le permitió establecer numerosas colaboraciones con África y Sudamérica.
27Guy era realmente un hombre de campo.
28En 1986 fue uno de los fundadores de la ONG ADG, llamada entonces «Communauté Agronomique Gembloutoise au Service du Tiers Monde» y, 7 años más tarde, "Aide au Développement Gembloux". Presidió la entidad desde el año 2000 hasta el 22 de diciembre de 2011, cuando dimitió para convertirse en vicepresidente. Nunca dejo de formar parte del Consejo. En 2018, también participó en la creación de la ONG Eclosio, como resultado de la fusión entre dos ONG de la ULiège: ADG y UniverSud.
29Realizó numerosas misiones en el terreno. Sus contactos con sus estudiantes y colegas eran cordiales y abiertos. Cuando los naturales de los países de los Grandes Lagos (la República Democrática del Congo, Ruanda y Burundi) se enteraban de que Guy había nacido en el Congo, lo veían como un auténtico africano. Un «Ndugu» como se dice en swahili, con el que se sentían perfectamente cómodos para comunicar libremente. Para ellos, era un hombre que había comprendido el espíritu participativo de los campesinos. Era alguien que respetaba las sugerencias de sus interlocutores e integraba la realidad sociocultural.
30Según sus estudiantes, era humilde y discreto y no buscaba honores. A pesar de una impresionante lista de contribuciones científicas, siempre se centró en el desarrollo sostenible al servicio de las poblaciones.
31Este es el espíritu que le llevó a convertirse en miembro del consejo de administración de la asociación sin fines de lucro que gestionaba la revista Tropicultura, también centrada en el desarrollo rural en sentido amplio y que tiene como objetivo dar oportunidades y acompañar a jóvenes científicos del Sur en sus primeros pasos hacia la publicación científica. Inicialmente, fue durante un año adjunto al Profesor HARDOUIN, titular del cargo, y después se convirtió en administrador-gerente y jefe de redacción en 1997, permaneciendo así hasta octubre de 2017. Durante estos 20 años ha sido una persona clave de Tropicultura, aun sin dejar de asistir a los autores con dificultades. En 2017 su salud se deterioró y tuvo que ser reemplazado en ambas posiciones. Pero la enfermedad no le impidió seguir participando en las reuniones siempre que pudo.
32Fue un luchador.
33Su risa vibrante no volverá a resonar en los pasillos, pero permanecerá siempre en la mente de los que lo conocieron.
To cite this article
Éric
Thys
, Bernard
Pochet
& Jan
Bogaert
, «In memoriam»,
Tropicultura
[En ligne], Volume 39 (2021), Numéro 2, URL : https://popups.uliege.be/2295-8010/index.php?id=1829.
Past secrétaire Agri-Overseas